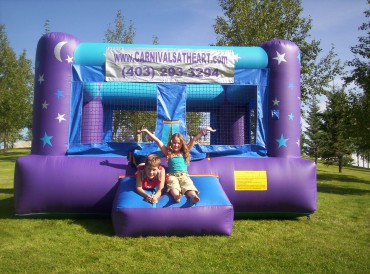 If you want a bouncer for the entire weekend and need it delivered, click here for amazing prices and options.
Conditions apply.
Read more
Bar and Bat Mitzvahs events, birthday party, bounce house, Bounce House Rentals, Bounce House Rentals Calgary, bounce house rentals chestermere, Bounce Houses, Bouncy Boxing, Bouncy Castles, Bungee Run, Corporate Party, festivals, Inflatable castles, Inflatable Games, Jousting, Jump House Rentals Calgary, Moon Bounce, Moon Walk, Obstacle Courses, Sumo Wrestling, themed bounce houses, Water Slides
SAFETY FIRST  All rules should be followed for rider's safety.  SUPERVISION by a qualified attendant is required at all times  The ride MUST be securely tied down.   The blower requires a GROUND fault protected circuit (GFCI).  DO NOT use and immediately deflate the ride, if winds exceed 15 MPH (25 KPH) and / or when it rains.  Individuals who may be particularly susceptible to injury from falls, bumps, or bouncing should not use this product. You should consult a physician before using this product.  REMOVE shoes, eyeglasses and any sharp objects.  NO food, drinks, gum, pets, face paint or silly string  Somersaults, diving, wrestling, rough play and flips are prohibited.  Play at a safe distance from others and away from the sides and entrances / exits.  DO NOT jump onto or off the ride  EXIT immediately if the unit begins to lose air.  Go down the slide FEET FIRST ONLY, one rider at a time for each lane.  NO CLIMBING up the slide the wrong way, NOR JUMPING onto the slide area. ADDITIONAL SAFETY RULES 1. No riders should be allowed on a partially inflated unit. 2. All Inflatables should be securely anchored and fully inflated before any riders are allowed to enter. 3. Maximum number or riders of each group that should play in the unit at one time is 6 riders or a Maximum Weight of 600 lbs – 100 lbs./ea patron; Rider height requirements: Minimum Height – 36"; Maximum Height – 60"  – unless Interactive Inflatable designed for Adults  4. Under no circumstances is climbing on the exterior of the inflatable allowed. 5. Adult supervision is required at all times while the inflatable is in use. Minimum required operator/attendant: one (1) by each entrance/exit ( 3 required for obstacle course units). 6. Do not install inflatables near a pools/ water/ sand or debris. 7. Caution should be exercised when lifting and handling the equipment. 8. All extension cords and straps should be placed in such a manner that no one can trip on them. Also, no electrical cords should run through puddles or near a pool. 9. Never remove the ground pin from the cord. EMERGENCY EVACUATION PROCEDURE The Attendant, before operating the ride, must familiarize himself with the ride's entrance/exit as well as escape hatches. In the unforeseeable event that power is interrupted and the ride begins to lose air, the Attendant should guide all the riders to calmly and orderly leave the ride via the entrance/exit. Any Questions Please contact us at 403-293-3294 by Text right away!